Neurizons 2020 is now over, but we decided to keep this page up to serve as reference or inspiration for others organizing their own virtual conferences. 
Information and FAQ about our virtual setup

Our virtual conference will be hosted mostly on the crowdcast platform. That's where the scientific talks, career fair, and panel discussion will be held. Participation is free of charge, but registration is mandatory.
We intend to create a safe and inclusive environment for everyone, so please be kind, polite and positive. Please read our Code of Conduct.

Important update:
All registered participants should have received their log in information for crowdcast. If not, make sure to check your spam folder, and contact us if problems persist. 
How crowdcast works
Neurizons 2020 will appear as an event on crowdcast and instructions on how to access it will be sent to all registered participants. The event will be structured in multiple sessions – with each talk constituting 1 session. By clicking on "SCHEDULE" at the top left you can view all scheduled sessions and navigate through them. Each session functions as a 'room' and looks something like this.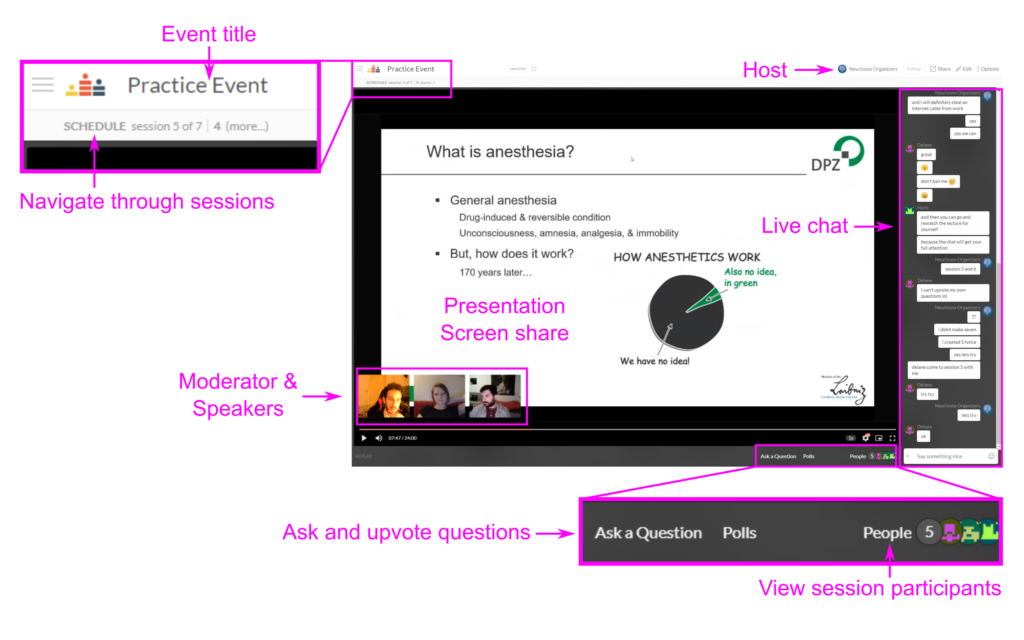 You can already see the main features at a glance. There will be people 'on stage', visible in the central panel. Typically, these will be the moderator and the speaker, and they can give a presentation by sharing their screens. The rest of the attendees (the audience) are not 'on stage' by default, in contrast to other platforms like Zoom. This is necessary to accommodate potentially hundreds of attendees. However, you — the audience — can engage with the speakers and with each other in several fun ways:
You can write in the live chat

on the right panel.

You can ask questions

via the "Ask a Question" button. Here you can also view the previously asked questions, upvote the ones you find interesting (reddit-style), and even add comments to the questions. Towards the end of each session the moderator will prioritize asking the most popular questions, which brings us to the next point.

The moderator can invite you 'on stage'

so that you can ask your questions directly to the speakers. Up to 4 people can appear 'on stage' simultaneously. If you wish to engage in this, make sure to have a functioning microphone and camera, and to accept the moderators' invitation when it appears on your screen.

Beware that by accepting this invitation, you are also agreeing to being recorded.

If you prefer that the moderator asks your question on your behalf, indicate so in your written question.

You can answer polls

created by the moderator.
For more in-depth information, check crowdcast's Attendee Quick Reference Guide.
Some practical and technical aspects
All the talks will be free of charge but registration is mandatory to reserve your spot. (Registration closed on May 22nd). A few days prior to the conference, we will email you a link to the crowdcast event, as well as a password. So make sure to check your emails, including the spam folder. Following the link, click on "Save my spot" and you will be notified shortly before the first session goes live.
We understand that due to time zone differences it will be impossible for everyone to attend all live sessions. Fortunately, crowdcast allows a replay of past sessions, so you can catch up on the ones you missed.This means that all talks are being recorded and remain accessible to registered participants via crowdcast. Keep that in mind if you choose to appear on screen.
If you ever feel lost in the wrong session 'room', click on "SCHEDULE" and  navigate to the session that is running live.
Beware that the quality of the streams depends on your internet connection. Try to be in a spot with a good internet signal to ensure a smooth experience. If the stream freezes/crashes, try refreshing the webpage. Crowdcast supports multiple browsers, but they recommend chrome for the optimal experience.
Be understanding and patient. We are all living through unprecedented times and trying to do our best. Everything is as new for us as it is for you. We hope that together we will create an exciting conference experience.
We intend to create a safe and inclusive environment for everyone, so please be kind, polite and positive. Read more in our Code of Conduct.
What about posters
Poster sessions as we know them are hard to recreate in an online environment. However, we will do our best to offer you part of that experience. After you complete your registration, you will be able to login and submit an abstract of up to 300 words. If you wish to nominate your abstract to be promoted to a Young Investigator talk, remember to check the relevant box during registration (and to submit the abstract before May 10). If you have already submitted your abstract prior to our decision to cancel the physical conference, you don't need to resubmit. 
— Poster Q&A video calls
As a poster presenter, you will be assigned to one of the poster sessions, as they appear on the conference schedule. A few days prior to the conference you will be asked to share a link to a video call where you will be available to answer questions for the duration of the poster session. You can pick a video-conferencing tool of your choice. We suggest that you password-protect your call, to deter uninvited trolls. How you wish to talk about your poster during the call is completely up to you. You can use slides, images, animations…. Be creative!
— Poster PDFs
To better advertise your work, and to make it easier for conference attendees to select which calls to join, we strongly encourage you to also send us a PDF file. The PDF can be either in the form of a 'traditional' poster, or a type of graphical abstract, to act as a 'teaser' for what people can expect in your Q&A call.
You are in charge, and free to share as much as you want. We recommend a single page, with a 16:9 aspect ratio. Use sufficient resolution to ensure the readability of your text but keep the file under 5 MB in size. The poster PDF files must be submitted to our email  neurizons@mpi-bpc.mpg.de. Include 'POSTER' as the subject of your email, and insert the PDF as attachment. Name your file according to this scheme: firstame_lastname_neurizons2020_poster.pdf (e.g. John_Smith_neurizons2020_poster.pdf).
— Poster prizes
We will select the top two submitted poster PDFs, based on how succinctly and creatively the central message is communicated. The winners will be rewarded with gifts (and bragging rights).
The links and passwords to Q&A video calls, as well as the PDF files, will be only shared with registered participants. The deadline for submitting an abstract and for sending us the PDF is May 15th 2020. If you are applying for the Young Investigator award, the abstract submission deadline is May 10th 2020.
Frequently Asked Questions
— Q: For how long after the end of the conference will the replays of the talks be available on crowdcast?
A: For one week after the conference ends (until Sunday 7th of June 11:59 pm CEST).
— Q: Will the poster sessions also be watchable as replays for one week?
A: The poster sessions are hosted by each individual poster presenter. Therefore they will not be available as replays. 
— Q: Will the talks be available on YouTube?
A: For the speakers that consent we will upload the talks on YouTube permanently. Follow us on Twitter and Facebook to receive more information on this. 
— Q: How can I reduce the video quality?
A: Click on settings icon, select 360p.
Watch this space for key information and updates about the virtual conference.