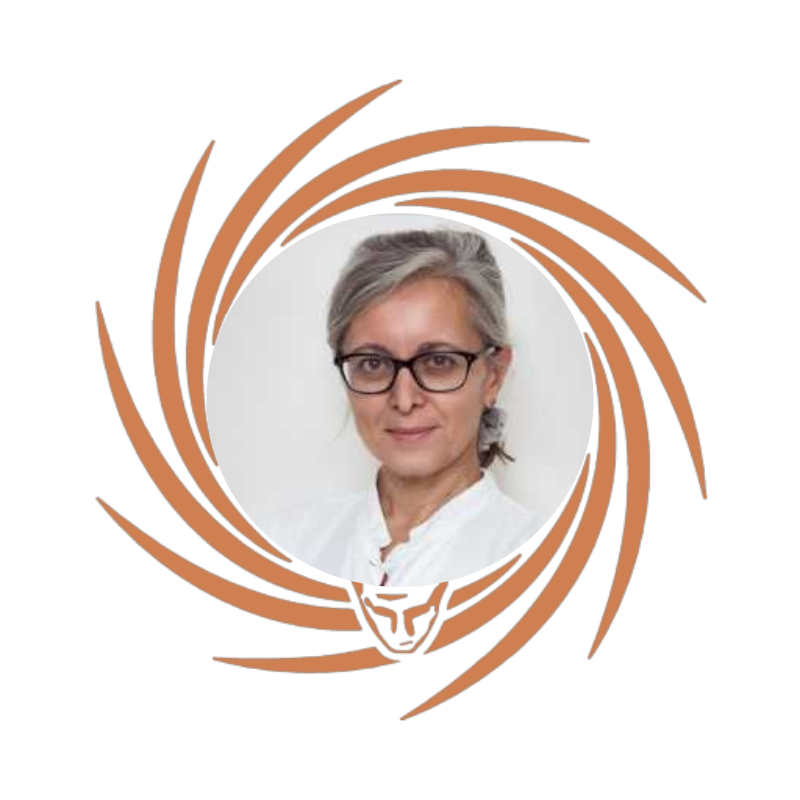 Education:
| | | | |
| --- | --- | --- | --- |
| Degree | Institution | Supervisor/Lab | Focus of work |
| Biology 1982 | University of Barcelona |   | Biochemistry |
| | Center for Research and Development (CID)-CSIC, Barcelona | E. Rodríguez-Farré | Pharmacology and Toxicology (Toxic Oil Syndrome) |
| PhD 1984-1987 | MRC Toxicology Unit, Carshalton, UK | Vincent Cunningham | Cerebral blood flow and metabolism |
Postgrad:
| | | | |
| --- | --- | --- | --- |
| PD/position | Institution | Supervisor / position | Focus of work |
| 1988-1989 | Center for Research and Development (CID)-CSIC, Barcelona | E. Rodríguez-Farré | Brain metabolism |
| 1990-1992 | Service Hospitalier Frédéric Joliot, INSERM-CEA, Orsay, France | Lugi DiGiamberardino / Bertrand Tavitian | Rodent PET studies for cerebral protein synthesis and markers of Alzheimer's disease |
| 1993-1998 | CID-CSIC | Tenured scientist | Physiopathology of cerebral ischemia |
| 1999-2003 | IIBB-CSIC | Tenured scientist | Neuroprotection in brain ischemia |
| 2004-2018 | IIBB-CSIC | Research scientist | Neuroinflammation in cerebrovascular diseases |
| 2018- | IIBB-CSIC | Research Professor | Innate immune system activation after sterile brain damage |
Talk title: The immune system senses brain damage and orchestrates tissue repair after stroke
Ischemic stroke is caused by abrupt disruption of brain blood supply, which triggers neural cell death within minutes. Acute brain tissue damage causes inflammation and triggers immune responses. Currently there are no treatments to successfully modulate these responses to induce brain protection after stroke. Understanding crucial cellular and molecular determinants of the immune responses after stroke is imperative to achieve effective solutions for brain protection and restoration of homeostasis. Danger signals or damage-associated molecular patterns, including nuclear proteins, nucleic acids, heat-shock proteins, amongst others, are released from the injured cells and trigger immune responses by activating pattern recognition receptors (PRRs). Microglial cells are equipped with membrane PRRs, can sense danger signals in the environment and induce inflammation. In addition, intracellular PRRs recognize cytosolic nucleic acids resulting from cellular stress and damage and activate the receptor stimulator of interferon inducing type I interferon (IFN) pathway. This pathway must be precisely regulated given that gain of function and subsequent chronic IFN type I overproduction is involved in the pathogenesis of autoimmune diseases. In old mice, microglia accumulate lipids and show stronger type I IFN responses after stroke, which causes more neurological impairment in aged than young mice. Designing strategies to restore the perturbed function of microglial cells of old mice is an attractive goal to improve stroke outcome in the elderly. Injury-activated microglia release cytokines attracting leukocytes to the lesion. Several lines of evidence support pro-reparative roles of some infiltrating monocytes and lymphocytes by paving the way to lesion resolution and repair.
Dr. Anna Planas' current main research interest is to underscore the contribution of inflammatory and immune responses to brain damage and repair in cerebrovascular diseases. She is interested in the molecular mechanisms that trigger activation of the immune system after acute stroke. The danger signals generated after neuronal damage that activate innate immune molecular programes and immune cells, and induce inflammation. Understanding the tight regulation of these response and their crosstalk with the adaptive immune system is crucial to discover new therapeutic targets to promote the recovery of brain function. I am also interested in the effect of aging since cerebrovascular diseases are more frequent in the elderly.
Additional info (awards, memberships, extracurricular, etc)
She is Researcher Professor of the Spanish National Research Council (CSIC) and leads the Laboratory for Cerebrovascular Research at the Institute for Biomedical Research of Barcelona (IIBB) where she is Head of the Department of Neuroscience and Experimental Therapeutics. She coordinates the area of Neurosciences at the Institut d'Investigacions Biomèdiques August Pi i Sunyer (IDIBAPS) at Hospital Clinic of Barcelona. Dr Planas was member of the Board of Directors of the International Society for Cerebral Blood Flow and Metabolism (ISCBFM) for eigth years. She was the local host for several scientific meetings, including the Brain'11 meeting. She participates in Editorial Boards of scientific journals. She has published more than 200 papers in international peer-reviewed scientific journals.