See more speakers [icon type="glyphicon glyphicon-chevron-right" color="#b50024″]
[row]
[column lg="4″ md="12″ sm="12″ xs="12″ ]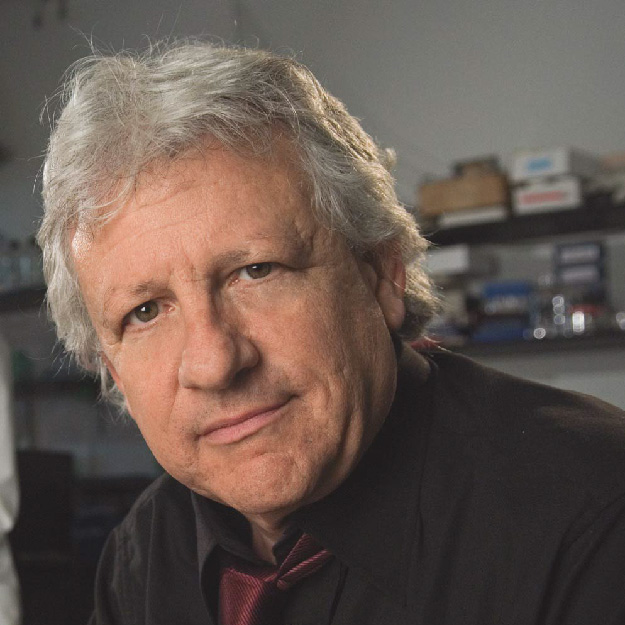 [/column]
[column lg="8″ md="12″ sm="12″ xs="12″ ]
Institute:
Department of Biological Sciences, 923 Fairchild Center for the Life Sciences, Columbia University, NY, USA
Website:
http://bioweb.biology.columbia.edu/firestein/
Session:
Keynote
Title of the talk:
How Biology Perceives Chemistry: the mammalian olfactory system.
Ignorance, Failure, Doubt, Uncertainty: Why Science Is So Successful
[/column]
[/row]
[well type=""]
Research
Dr. Stuart Firestein is the former Chair of Columbia University's Department of Biological Sciences where his colleagues and he study the vertebrate olfactory system, possibly the best chemical detector on the face of the planet. Aside from its molecular detection capabilities, the olfactory system serves as a model for investigating general principles and mechanisms of signaling and perception in the brain. The olfactory system represents a unique opportunity for these studies as it processes sensory information over a very short neural pathway – giving rise to striking perceptions and memories with much less processing than the visual system requires, thus making it a more tractable system to understand. The laboratory has published over 100 scientific articles on their research. His laboratory seeks to answer that fundamental human question: How do I smell?
Dedicated to promoting the accessibility of science to a public audience Firestein serves as an advisor for the Alfred P. Sloan Foundation's program for the Public Understanding of Science, where he reviews scripts for the Ensemble Studio Theatre/Sloan Science and Technology Program, and for the Tribeca and Hamptons International Film Festivals. Recently he was awarded the 2011 Lenfest Distinguished Columbia Faculty Award for excellence in scholarship and teaching. He is a Fellow of the AAAS, an Alfred Sloan Fellow and a Guggenheim Fellow. His book on the workings of science for a general audience called Ignorance, How it drives Science was released by Oxford University Press in 2012. His new book, Failure: Why Science is So Successful, will be released in September.
[/well]
[well type=""]
Biography
Professional Experience
1988-1989 Post Doctoral Associate, in the laboratory of Dr. Gordon Shepherd, Section of Neurobiology, Yale Medical School, New Haven, CT
1989-1990 Research Associate, Section of Neurobiology, Yale Medical School.
1990, 91 Instructor, Neurobiology course, Marine Biological Laboratories, Woods Hole, MA
1990-1993 Assistant Professor, Section of Neurobiology and Interdepartmental Neuroscience Program, Yale University Medical School
1993-1998 Associate Professor, Department of Biological Sciences, Columbia University, NY
1998-present Professor, Department of Biological Sciences, Columbia University, NY
Fellowships and Awards
1983-1987 NIH Pre Doctoral Training Grant
1988 R.H. Wright Research Fellowship. Physiological Analysis of Olfactory Transduction.
1992 NATO Collaborative Research Investigator
1993 Kenji Nakanishi Award for Excellence in Olfaction Research
1995 Seventh Anniversary Lecturer for National Institute of Deafness and Communicative Disorders, Bethesda, MD 1995
1994 -1997 Human Frontiers Science Program Award
1996-1999 Whitehall Foundation Investigator Award
1997-2000 McKnight Investigator Award; McKnight Endowment for the Neurosciences
2002 NIH Neuroscience Lecturer
2004 R.H. Wright Award
2005 Grass Lecturer, Rocky Mountain Neuroscience Chapter
2007 Grass Lecturer, Dalhousie University, Canada
2009 Invited Professor, Universite Pierre et Marie Curie (Paris VI)
2011 Alfred P Sloan Award for Science communication
2011 Lenfest Award for Distinguished Teaching and Scholarship, Columbia University
2012 Elected Fellow, AAAS
2013 AChemS, Max Mozell Award for Lifetime Achievement in Chemical Senses
2013 Great Teacher Award, Society of Columbia Graduates
2013 Guggenheim Fellowship, science communication
2013-14 Visiting Scholar, Cambridge University, Dept. of History and Philosophy of Science
Selected peer-reviewed publications
Nonsensory target-dependent organization of piriform cortex. Proceedings of the National Academy of Sciences of the United States of America. Chen CF, Zou CJ, Altomare CG, Xu L, Greer CA, Firestein SJ. 2014.
A lifetime of neurogenesis in the olfactory system. Frontiers in Neuroscience. Brann JH, Firestein SJ. 2014.
The state of the art odorant receptor deorphanization: A report from the orphanage. The Journal of General Physiology. Brann JH, Firestein SJ. 2014.
Age-dependent regional changes in the rostral migratory stream. Neurobiology of Aging. Mobley AS, Bryant AK, Richard MB, Brann JH, Firestein SJ, Greer CA. 2013.
Two-photon polarization microscopy reveals protein structure and function. Natural Methods. Lazar J, Bondar A, Timr S, Firestein SJ. 2011.
Detection of explosives by olfactory sensory neurons. Journal of Hazardous Materials. Circle A, Lobasso S, Lopalco P, Dibattista M, Araneda R, Peterlin Z, Firestein SJ. 2010.
Regeneration of New Neurons Is Preserved in Aged Vomeronasal Epithelia. Journal of Neuroscience. Fierstein SJ, Brann JH. 2010.
Discrimination of saturated aldehydes by the rat I7 olfactory receptor. Biochemistry. Kurland MD, Newcomer MB, Peterlin Z, Ryan K, Firestein SJ, Batista VS. 2010.
The Molecular Basis for Odor Recognition. Cell. Firestein SJ, Greer CA, Mombaerts P. 1991.
[/well]
[button style="btn-danger btn-sm" icon="glyphicon glyphicon-chevron-right" align="right" type="link" target="false" title="More speakers" link="https://www.neurizons.uni-goettingen.de/programme/speakers-2016/"]