See more speakers [icon type="glyphicon glyphicon-chevron-right" color="#b50024″]
[row]
[column lg="4″ md="12″ sm="12″ xs="12″ ]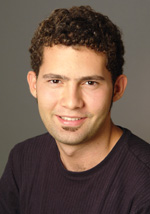 [/column]
[column lg="8″ md="12″ sm="12″ xs="12″ ]
Institute:
Leibniz-Institut für Molekulare Pharmakologie, Germany
Website:
www.fmp-berlin.info/de/research/molekulare-physiologie-und-zellbiologie/research-groups/haucke/department.html
Session:
Synaptic Physiology and Plasticity
Title of the talk:
A conformational switch in collybistin determines the differentiation of inhibitory postsynapses
[/column]
[/row]
[well type=""]
Biography
Tolga Soykan studied Biological Sciences and Bioengineering in Sabanci University, Istanbul, Turkey. In 2006 he joined the IMPRS in Molecular Biology in Göttingen. Tolga did his PhD on investigating the mechanisms underlying synapse formation and differentiation, in the lab of Prof. Nils Brose at the Max Planck Institute of Experimental Medicine. In 2014, he joined the lab of Prof. Volker Haucke in Berlin to investigate the mechanism of presynaptic exo/endocytosis, particularly focusing on understanding the molecular dynamics of synaptic vesicle retrieval after fusion.
Publications
Soykan T*, Schneeberger D*, Tria G, Buechner C, Bader N, Svergun D, Tessmer I, Poulopoulos A, Papadopoulos T, Varoqueaux F, Schindelin H, Brose N (2014) A conformational switch in collybistin determines the differentiation of inhibitory postsynapses. EMBO J. 33(18):2113-33
Mayer S, Kumar R, Jaiswal M, Soykan T, Ahmadian MR, Brose N, Betz H, Rhee JS, Papadopoulos T. (2013) Collybistin activation by GTP-TC10 enhances postsynaptic gephyrin clustering and hippocampal GABAergic neurotransmission. PNAS. 110(51):20795-800
Poulopoulos A*, Soykan T*, Tuffy LP, Hammer M, Varoqueaux F, Brose N (2012) Homodimerization and isoform-specific heterodimerization of neuroligins. Biochem J. 446(2):321-30
Hoon M, Soykan T*, Falkenburger B*, Hammer M, Patrizi A, Schmidt KF, Sassoè-Pognetto M, Löwel S, Moser T, Taschenberger H, Brose N, Varoqueaux F (2011) Neuroligin-4 is localized to glycinergic postsynapses and regulates inhibition in the retina. PNAS. 108(7):3053-8
Papadopoulos T, Soykan T (2011) The role of collybistin in gephyrin clustering at inhibitory synapses: facts and open questions. Front Cell Neurosci. 5:11
Poulopoulos A, Aramuni G, Meyer G, Soykan T, Hoon M, Papadopoulos T, Zhang M, Paarmann I, Fuchs C, Harvey K, Jedlicka P, Schwarzacher SW, Betz H, Harvey RJ, Brose N, Zhang W, Varoqueaux F (2009) Neuroligin 2 drives postsynaptic assembly at perisomatic inhibitory synapses through gephyrin and collybistin. Neuron. 63(5):628-42
[/well]
[well type=""]
Research
In the mammalian CNS, an efficient synaptic transmission relies on localized and transmitter-specific differentiation of the postsynaptic plasma membrane of with receptors, scaffolding, and adhesion proteins accumulating in precise apposition to presynaptic transmitter release sites. During his PhD Tolga Soykan focused on understanding the mechanism underlying the differentiation of inhibitory GABAergic postsynapses. He was a part of the research group who identified the protein interactions of the synaptic adhesion molecule neuroligin-2 that drive postsynaptic differentiation at inhibitory synapses. Neuroligin-2 binds the scaffolding protein gephyrin through a conserved cytoplasmic motif and functions as a specific activator of collybistin, thus guiding membrane tethering of the inhibitory postsynaptic scaffold. Tolga's efforts also derived new insights into the structure of collybistin and helped defining a collybistin-based protein interaction network that controls the gephyrin (and thus GABAA receptor) content of inhibitory postsynapses. By linking transsynaptic neuroligin-dependent adhesion and phosphoinositide signaling with gephyrin recruitment, the collybistin-based regulatory switch mechanism represents an integrating regulatory node in the formation and function of inhibitory postsynapses.
Starting from 2014, Tolga Soykan switched his scientific focus from the postsynaptic differentiation to presynaptic function. At the presynapse the precise mechanisms by which synaptic vesicle (SV) membranes are endocytosed and SVs reform remain controversially debated with evidence arguing for SVs being recycled via clathrin-mediated endocytosis (CME) from the plasma membrane and kiss-and-run exo-endocytosis directly at the AZ. More recently, ultrafast endocytosis (UFE) and activity dependent bulk endocytosis (ADBE) have been revealed as clathrin-independent endocytosis (CIE) mechanisms that mediate bulk retrieval of SV membranes at sites distal from the release site. Tolga Soykan's current research focuses on understanding the contribution of CME and CIE to the retrieval of newly exocytosed SV membrane. He further aims to identify which specific components drive the CIE of SV membranes and investigate the mechanism of how SV fusion is coupled to clathrin-mediated or clathrin-independent mode of membrane retrieval.
[/well]
[button style="btn-danger btn-sm" icon="glyphicon glyphicon-chevron-right" align="right" type="link" target="false" title="More speakers" link="https://www.neurizons.uni-goettingen.de/programme/speakers/"]